As winter is looming waterless product are a great alternative than breaking out the buckets and hose pipe for the quick wash, dust removal or pamper session with the car in winter storage. These car wash products allow you to clean, shine and protect your car without water, also when you use a waterless product, you're taking an active part in conserving this natural resource.
But you might wonder – which waterless car wash products should you use, considering the plethora of brands out there?
Waterless Car Wash Products: Brands You Can Use
Below we have handpicked products you can check out, in no particular order.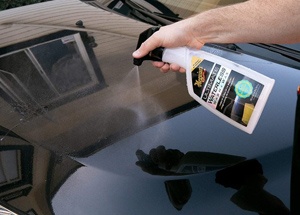 1. Williams Waterless Wash and Wax
If you want a product that's safe for you, your vehicle, and the environment, then Williams' Waterless Car Wash Kit is a definite must-try. It works well on both wet and dry surfaces.
Using it is straight forward. Just spray it on an area of your vehicle, then wipe off with a clean waffle-weave microfibre cloth. Do this section by section, starting from the roof down to the wheels.
The package contains the product, an easy-squeeze spray bottle, and some microfibre towels.
The downside? It doesn't work well with vehicles that are very dirty. You'll have to use a pressure washer or steam cleaner to remove mud and stubborn contaminants.
READ MORE
2. Meguiar's Ultimate Waterless Wash & Wax
If you prefer highly concentrated waterless car wash products, then Meguiar's Ultimate Waterless Wash & Wax might be the right one for you. A small amount of product goes a long way with this one. Just spray it on, then wipe off. You can use it on all types of surfaces – car paint, rubber, chrome, plastic trims.
And because it's concentrated, it can remove stubborn contaminants from your vehicle's surface. Just spray directly on the affected areas and wipe off with a clean microfibre towel. If stains prove difficult to remove, repeat the process. Oh, and did we say it provides a longer-lasting shine, too?
READ MORE
Whether you live in a flat without access to a hose or simply want to quickly wash your car, a waterless car wash is the best product to use.
3. Triplewax Waterless Car Wash
Clean, protect, and seal. This is what the Triplewax Waterless Car Wash offers. As with most waterless car wash products, it's easy to use. It provides quick results too.
However, if your vehicle is very dirty, we suggest hosing down the surface. It's also highly concentrated, so you can clean and shine your vehicle with just a small amount of product.
READ MORE
4. Showroom Shine Car Wash and Polish
Wet or waterless, it doesn't matter with Showroom Shine Car. Their Waterless Wash & Polish provides your vehicle with a quality finish you can be proud of. You can use it on any part of your vehicle, from the painted surfaces right down to the wheels. Just spray it on and wipe dry.
Another plus factor of this product – you can use it even on windows.
READ MORE
5. Armor All Waterless Car Wash
We've reviewed Armor All products and we've never found anything negative about it. So no wonder their Spray-On Car Wash is a great product, too. It's packed with enough power to remove contaminants from surfaces yet is gentle enough not to scratch the car's paint. Yes, it's one of the waterless car wash products we recommend. Not to mention that it smells good, too!
It comes in different container types and sizes. You can also opt for the kit which contains everything you need for that perfect shine.
READ MORE
6. Chemical Guys' EcoSmart-RU (Ready to Use) Waterless Car Wash and Wax
This product's one-of-a-kind formula lifts dirt from the surface without harming the paint. All you must do is spray it on your vehicle, then wipe the contaminants away. It works well on both wet and dry surfaces. Although it claims that you can use it even when your car's not under a shaded area, we disagree. It's always better to be on the safe side of things, right?
Plus, it contains natural carnauba wax, which provides extra protection to your vehicle.
READ MORE
7. Adam's Waterless Wash
For this product to provide you with the best results, you'll need a waffle-weave microfibre towel. It has a powerful formula that lifts dirt from the surfaces, enabling you to wipe it away easily. Their guarantee? If you don't agree that they're the best waterless wash spray on the market, they'll do everything they can to make it right for you!
These are some of the waterless car wash products you can use for your prized possession. As much as you can, try using organic waterless car wash products, because these are safe for you, your vehicle, and the environment.
READ MORE
9.3 / 10 = Product Review Score (Adam's Waterless)