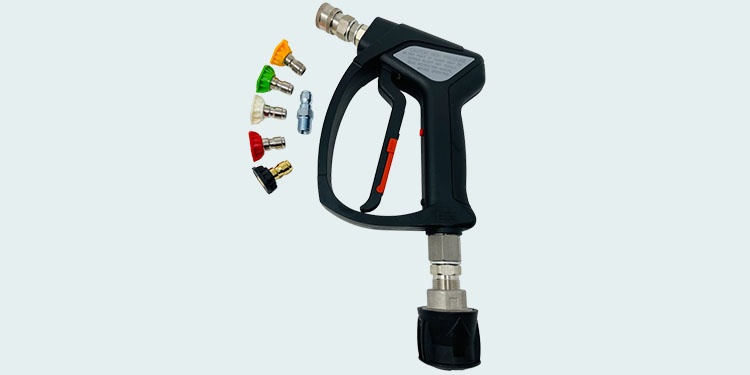 Key features of the MTM Hydro

No more fighting with your hose to keep it from slamming into your car. The All New SGS-35 Spray Gun boasts a Best in class Stainless Steel Swivel built into the assembly. No more searching for additional fittings or swivels to purchase or lugging extra steel around. Cleaning has never been easier with our "Easy Hold" technology. This Italian made gun is manufactured with shockproof reinforced plastic ribbing throughout the entire body of the gun supporting the pipe and protecting your hand. It has full stainless internals, an integrated stainless steel swivel, and a linear (easy) pull trigger.
Item comes with everything needed to use with your Pressure wash. Just release the hose from your current trigger and clip into the bottom of this trigger gun. You can be up and running in literally 30 seconds!
Includes 5x Quick Release Nozzles (White: 40°, Green: 25°, Yellow: 15°, Red: 0°, Black: Soap Jet). Also comes with 1/4 Quick Connect Snow Foam Adaptor
When attaching the nozzles, please press them in firmly to make sure they are secured bedded in.
Get Featured On Waxed Perfection
Promote your brand & products. For shoutouts and business inquiries, direct message or email us info@waxedperfection.co.uk
A spot on WaxedPerfection's website is a powerful way to boost traffic
Author & Owner of Waxed Perfection