HARPURE Pure Shampoo
Pure Shampoo is suitable for use on all vehicle types and surfaces protected or not.
Pure Shampoo from Harpure has a fantastic scent and is super concentrated. It produces a thick, luxurious foam with great lubricity. Cleaning power is good, without removing any protection. General road grime and soiling was easily removed from the car including the glass and plastics as well as inside the door jams. We found it not to remove existing waxes/sealants/coatings making it perfect for regular maintenance washes.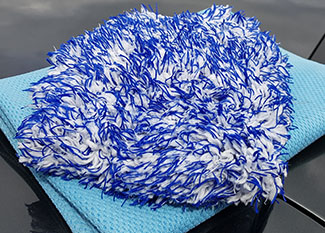 HARPURE Glass Detailer
Glass Detailer from Harpure, I found this to have a great balance blend of mild solvents, meaning fingerprints and greasy films are effortlessly removed to reveal a streak and smear free finish.
Glass Detailer is a fast-flashing glass cleaner that is super easy to use. Great on all glass and mirrors, window tints and even shower glass in the bathroom. I tested this across a number of glasses and mirror surfaces, from exterior glass, interior glass and the TV stand in the home and it performed faultlessly. It's as simple as spray and wipe.
I found it works best with a lint free microfibre glass cleaning cloth for best results.
This Elite Bundle consists of the full HARPURE range: 1 Pure Shampoo 500ml, 1 Glass Detailer 500ml, 1 Interior Detailer 500ml, 1 Exterior Detailer 500ml, 1 Tyre Slick 500ml, 1 Ultra Freshener 150ml, 1 Cucumber Hand Sanitiser 60ml, 2 The Orginal Hanging Air Fresheners (Hook & String), 1 HARPURE Wash Mitt & 4 HARPURE Microfibre Cloths.
Harpure's objective is to create top quality products with simple instructions, for the inexpert and expert detailers.
HARPURE Interior Detailer
Interior Detailer from Harpure is an effective interior cleaner and dressing with protective elements to reduce dust build-up.
Interior Detailer has an aftershave scented aroma to it, I believe it to be a water based interior cleaner and dressing that can be used on interior plastics, vinyl, and leatherette finishes. Just mist lightly onto the surface, work in with a microfibre towel removing any dust and light soiling. Flip the towel over and give a final wipe and you are left with a beautiful, non-greasy factory finish. It also seemed to have anti-static properties which will help keep your interior cleaner for longer. I was amazed at the cleaning power, finish and protection that Interior Detailer leaves and the fact that such little product is needed to get the desired results.
HARPURE Exterior Detailer
Exterior Detailer from Harpure gently cleans and protects both exterior and interior painted surfaces & finishes.
Excellent for removing bird soiling, grime & other contaminants from paint finishes in-between washing and for keeping painted surfaces clean & protected against the elements.
Exterior Detailer spray has a pleasant scent but also a faint hint of IPA (Isopropyl Alcohol). Exterior Detailer is very easy to apply and remove and leaves an incredible high gloss, slick, wet look finish that is perfect for that last minute prep before a show or as a maintenance product. A beautiful product that performs as well as it looks!
HARPURE Tyre Slick
Tyre Slick from Harpure is a fantastic silicone based rubber dressing, as well as durable and weather resistant. Tyre Slick will certainly enhance the appearance of all tyres.
Tyre Slick is a non-scented, liquid, silicone based tyre dressing from Harpure and it is incredibly versatile. Being a liquid it can be applied by a tyre sponge applicator or brush. I found this product ideal for giving tyres a new fresh look – the liquid nature of the product makes it easy to get an even coverage. If applied and left to dry you get a gloss finish, if lightly wiped down with a microfibre towel after application you get a pleasant satin finish. In terms of durability I saw in region of one to two weeks when prepared and applied correctly.
HARPURE Ultra Freshener
Ultra Freshener from Harpure is designed to freshen up any car interior with just a couple of squirts.
Ultra Freshener is presented in a premium quality finger pump spray bottle that will fit ideally in any side door compartment or glove box. All that is needed is a few bursts to freshen up your interior. I tested Ultra Freshener which has a light aftershave style scent, which could be inspired by the latest men's fragrances. I found it to be a classy, fresh scent and not too overpowering. The scent settles down quickly and remains pleasantly present until your next weekly maintenance wash. The smaller bottle will last a long time so it represents good value for money as a couple of pumps is all that is needed.
HARPURE Wheel Cleaner
For this to be an "Elite Kit" I was able to wash and protect the car and also dress the tyres and tinker on the inside, however I wasn't able to wash and clean the alloys, I feel this is an area Harpure should look at plugging the gap in there range as sadly it does let this kit down, so for now you would have to look for another brand for a wheel cleaner as its not sold as an optional extra either.
8.8 / 10 = Product Review Score