NEW STOCK HAS ARRIVED A huge amount of new stock has arrived. Check out the largest stocks of Chemical Guys in the UK!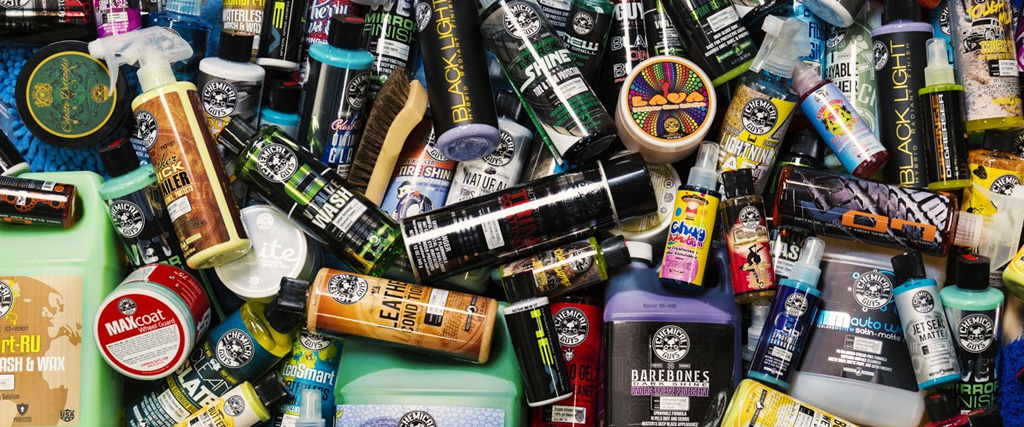 5 Inch Hex Logic Pads Back In Stock!
The brand new Hex-Logic polishing pads
Redesigned and revamped for better polishing performance and a more comfortable experience. The Black Hex-Logic Finishing Pad spreads the perfect coat of glaze, wax, and sealant for added gloss, shine, and protection after a full detail. Upon introduction, Hex-Logic Polishing Pads quickly became the go-to buffing pads for detailing professionals and hardcore enthusiasts.
Detailers loved the even spread and cutting power of the unique Hex-Logic grooves, and they soon applied it to every step from heavy compounding, to fine polishing, and finishing with the perfect coat of wax.
Machine polishing is the only process that permanently removes and repairs paint swirls, scratches, and other defects. Similar to exfoliating skin, the polishing machine spins the polishing pad and compound on the surface to physically remove "dead" layers of paint. The new Hex-Logic pads are engineered with the finest and most durable detailing foams, hook and loop interface, and V-cut channels to increase airflow and cooling characteristics.
Hex-Logic engineers rounded the profile of the pad for improved flex into curves and contours and smoother polishing performance. New materials and manufacturing processes improve airflow to cool foam pads and reduce the wear and tear that rips pad foam from the backing material. The new and improved pad design builds on the tried-and-true dependability and effectiveness of the Hex-Logic concept, and takes detailing to the next level.
Butter Wet Wax Back In Stock!
Better Butter Wet Wax and Chemical Guys has delivered. Chemical Guys Butter Wet Wax is formulated to deliver an unmatched surface shine and deep wet look. Butter Wet Wax goes on easier, shines brighter and lasts longer than previous generations.
This improved blend of natural Carnauba, polymers, and resins leaves your car shining as if it were just washed! Chemical Guys Butter Wet Wax enables you to attain the deep gloss of a paste wax in an easy on, easy off, long lasting blend. Butter Wet Wax is now even easier to use giving that amazing shine only our ultra refined, 100% carnauba based wax can provide. We named this wax after its trademark characteristic; it simply melts into any paintwork like butter.
Chemical Guys Butter Wet Wax is simply stunning. Professionals and enthusiasts alike all around the world choose Chemical Guys Butter Wet Wax for its easy-to-use capabilities, extremely durable protection, and show winning shine that will look astonishing on most non-textured surfaces including, painted wheels, chrome bumpers, glasswork/ windshields and stainless steel exhaust tips. Chemical Guys uses our all new signature, ultra-refined, carnauba formula creating a wax that utilizes the natural cleaning powers of carnauba to gently cleanse the paint, exposing the natural beauty of your vehicle's color, while also providing a protective coating that will fight out the harsh effects of the elements.
The smooth, protective layer is 100% natural to fight off water spots, bird droppings and road tar. The new improved formula of Butter Wet Wax is even more guarded against the suns harmful UVA and UVB rays. Your vehicle needs the best protection to fight off the harmful effects of driving. When you desire a deep wet shine with amazing protection, the easy on, easy off Butter Wet Wax will bring your vehicle's paintwork to life.
V.R.P Now Back In Stock!
VRP Protectant is the ultimate protection and shine enhancer for interior and exterior trim. VRP creates a super shine finish on any rubber, vinyl, or textured plastic surface. The easy-to-use protectant restores a deep black look, enhances shine, and protects the surface against UV solar rays. Perfect for tires, bumpers, trim pieces, bumper moldings, side mirrors, and much more.
Easily protects dashboards, door panels, vinyl seats, and steering wheels. VRP provides a brilliant shine and restores the dark black appearance to plastic and rubber trim. Apply to rubber tires to maintain the dark black finish after every wash. Restore mirror and bumper trim from dull and faded to dark and rich. VRP Protectant leaves no-residue and finishes dry-to-the-touch.
VRP Protectant keeps your trim looking like new for weeks, not days. VRP penetrates deep into the pores of plastic, rubber, and vinyl to restore and protect the surface to factory-new condition. The water-based protectant creates the perfect new appearance on interior and exterior surfaces, not a greasy wet look. Restore the dark, rich shine to vinyl, rubber, and plastic trim with Chemical Guys VRP Protectant.
Honeydew Snowfoam Now Back In Stock!
The new Honeydew Snow Foam is thicker, slicker, and more gentle than ever before. Powerful hyper surfactants cut through dirt and grime, lift them from sensitive automotive paintwork with billions of scrubbing bubbles, then safely lubricate and guide them off the paint for a scratch-free wash.
The pH-neutral formula is gentle on wax coatings, and safe to use in direct sunlight for a spot-free wash. Turn every Sunday morning car wash into a foam party with Chemical Guys Honeydew Snow Foam. Honeydew Snow Foam is gentle and surface safe so it can clean any area of your vehicle from wheels to paintwork. The pH-balanced formula even allows you to wash your car or truck in direct sunlight.
Honeydew Snow Foam rinses clean every time with no residue for a clean surface that will grab attention. The high level of foam produced by Honeydew Snow Foam makes this high-tech detailing shampoo perfect for foam cannons and foam guns.
Omega Products Group Limited Tel: 01539 795920 Email: sales@ukchemicalguys.co.uk
recommendation to a friend
100%