Waxstock 2020 / 20201 … the largest specialist car care event in Europe, if not globally. With over 60 stands, 90+ brands and over three thousand visitors in just one day, Waxstock 2019 set the bar high as the largest one day detailing event in the World. For 2020 / 2021, we will aim even higher. The venue, once again, is the Ricoh Arena in Coventry, UK. And the date for your diary is Sunday 18th July 2021.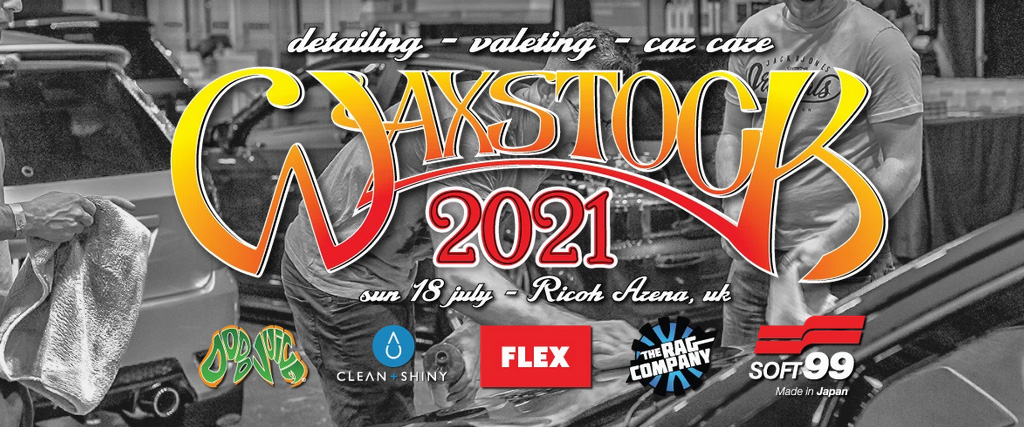 If you want to show your car inside the hall, just reserve an indoor car space on our ticket page (relaxed fuel regs now apply!) and you will be entered into either the Top 16 Detailing World SHOWDOWN (goody bags for all, trophies for three, eternal glory for one) or the indoor Arrive and Shine (1st and 2nd placement in 6 categories).
Sunday 18th July 2021. The Day No Detailer Should Miss. The biggest detailing event of the year happens on one day only. In 2021, the date for your diary is Sunday 18th July. If you've been to previous Waxstock events, you'll know what to expect. A packed day full of detailing demos, one-off special deals and impeccable paintwork, topped with a sprinkling of socialising. It's a great day out and the best detailers' shopping trip of the year.
You could even make a weekend of it, thanks to the on-site DoubleTree by Hilton hotel, Grosvenor Casino (open 24 hours, with live entertainment on Saturday nights) and a host of bars and restaurants nearby… it makes Waxstock the ultimate detailing meet.
Waxstock 2016 Exclusive Savings, Products and Prizes As well as traders offering exclusive show deals (and even products!), Kim's Corner has dozens of nearly-new detailing products up for grabs (with proceeds going to charity). There'll be prizes to win in the Arrive and Shine and SHOWDOWN competitions, too.
So save the shipping instead of buying online, hunt down deals on specialist products, bag bargains that make the entry price seem insignificant and start prepping your car. Please note that parking is FREE and that there is also a FREE cash machine on-site at Ricoh Arena.
Car Clubs Welcome We do a special car club deal for 10+ tickets booked via our trade – at – waxstock – dot – com email address (simply email for more info).
Clubs usually park in the outdoor Arrive and Shine area, at the front of the Arena (cars must arrive together and spaces are limited… it is best to turn up before 8.00am). What's more, the top three cars per club will automatically compete for 'Car Club Winner' in the Arrive and Shine – potentially winning a trophy for their club and maybe even some products for themselves.
Find The Cheapest Price | Never Overpay Again
A great place to always check is Amazon, you will find from time to time some great products at low prices.