Introducing Squid Ink Detailing Ltd
Squid Ink Detailing Ltd was launched in 2017. The owner Michael Wheatley is one of the founders of a couple of prominent car groups in Manchester. Owning a highly modified MX5 turbo saw him help run a group called Manchester MX5s with a few close friends. Their passionate members meet up a couple of times a month raising money for The Veterans' Garage, an amazing charity for ex-servicemen and women.
This group expanded in 2018 and Manchester Cars and Coffee was formed, a much larger monthly meet that welcomes cars of all shapes and sizes. In the summer months, this hugely popular family friendly meet attracts in excess of 700 cars. All entry fees are donated to the Veterans' Garage.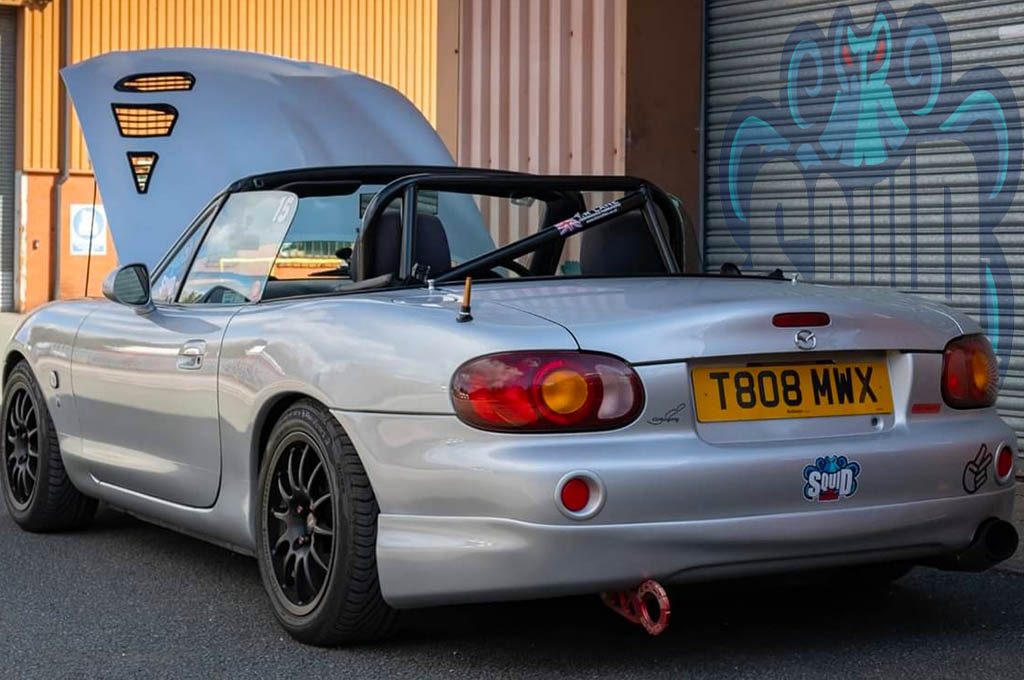 Michael has always been a very passionate detailer. In 2017 he was introduced to a small local chemical plant who export their products to America, Africa and Asia. He got hold of their new nano wax quick detailer and was immediately very impressed.
The quick detailer was effortless to use, provided amazing gloss and offered great durability. Michael purchased some samples, and they were enthusiastically given out to friends at his meets. Word quickly spread about the product and before long people were getting in touch asking to buy some.
This is when Squid Ink Detailing Ltd was born. The business was registered, product and public liability insurance were secured, branding was designed, CLP compliant labels/MSDs sheets were created and a website and social media channels were launched.
Michael invested in a branded Gazebo and set up a regular stand at the Manchester Cars & Coffee meets that he had helped create. Interest in his brand skyrocketed, he has a growing base of very loyal customers and was approached by several businesses who now stock his products.
Michael also gained sponsorship of BLiNK Motorsport who use his QD on their race cars. The Squid Ink logo was proudly emblazoned on the bonnet and fuel cap of their championship winning MX5 SuperCup car driven by James Blake-Baldwin.
Michael continued working full time in IT, running Squid Ink Detailing Ltd as a side business in his spare time, selling products online and at his local meets.
Squid Ink Ultimate Quick Detailer was a big success and the business grew quite quickly. Within 12 months a modest variety of premium products were added to the Squid Ink range.
Michael is a perfectionist and strongly believes in offering World Class customer service, this is reflected in his perfect review scores on social media and Trustpilot.
He thoroughly tests every single product and will only ever release anything once he is happy to use it himself. He points out that a lot more products are rejected than accepted into the range. He has built up a large network of UK based chemical manufacturers and chemists who will custom make products to his own specification.
Squid Ink's handmade waxes are blended by local hobbyists, which makes them quite unique in a market typically dominated by a few big manufacturers.
Michael always aspired to work for Squid Ink Detailing full time one day.
Time and money were always the limiting factor in pushing his business to the next level. This changed in early 2021, a large investment opportunity presented itself which would allow Michael to finally leave his job in IT and focus purely on driving Squid Ink Detailing to the next level.
The business has relocated to Worksop where Michael grew up, and there are some huge plans in place over the coming months. The range is undergoing a massive transformation with all kinds of innovative products being added in the coming weeks.
Once the pandemic restrictions have lifted, he intends to continue with his MCC meets across the Pennines and start expanding further around the country.
Squid Ink Detailing are a brand to watch out for, combining quality UK made products, offering a great customer experience at a good price has got to be a winning formula.