Paint Thickness Gauge

What is a Coating Thickness Gauge? A coating thickness gauge (also referred to as a paint meter) is used to measure Paint thickness. Paint thickness is probably the most critical measurement in the car industry because of its impact on the coating process, quality and cost. Paint thickness measurements can be used to evaluate a coating's expected life, the product's appearance and performance, and ensure compliance with a host of International Standards.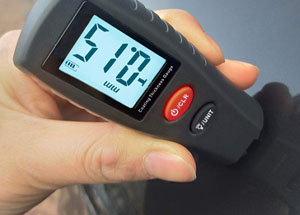 Cheap Paint Thickness Gauge
Paint Thickness Gauges are commonly used for measuring the thickness of paint, anodising, galvanising, zinc plating, chrome and/or powder coatings.
This Paint Thickness gauge is a simple to use paint thickness gauge that can enable the user to quickly determine previous repairs that may have been carried out to a vehicles bodywork.
The gauge works on painted panels. Often paint repairs are not easily or quickly identified when relying just on eyesight and/or fingers. Essential knowledge before committing to paint restoration work or when buying used vehicles!
Has it been painted?
Original Paint
In most cases, when the result is less than 0.2mm(8mil), it's original painting.
Repaint
In most cases, when the result is over 0.2mm(8mil), it's repainted.
Measure Rnage 0~1.80mm/0~71.0mil
This model is mainly used for checking if the car has been repainted or not. Not for high accuracy thickness checking. If you need a higher resolution gauge see below.
Paint Coating Thickness Gauge, ERAY Digital Depth Mil Thickness Meter with Backlight LCD Display for Car Automotive, 320 Measurements Store/USB Data Download Analysis/Limit Alarm
7 / 10 = Product Review Score