Don't know if this is in the UK yet but my review after 6 months use is here.
I was sat at my desk thinking of a product that we could offer to the public for those easy details that would not take hours and hours without much prep work. Not a one year coating that would take hours to apply, just a simple spray on wipe off with up to a year protection. Then thump on my desk a bottle arrived from 303 with a new graphene spray coating. I have always been a fan of 3O3 the products work and do exactly what is said on the bottle so I took it home and decided to test on my cars for the next six months before launching it as a product that we have done now
First impressions are that it is a gray liquid. So obviously a good shake of the bottle is required.
My cars have been heavily machine polished with three layers of c quartz Finest reserve applied, in that time no top products have been applied.
All cars in Texas tend to live a miserable existence in the summer so from May to October the temperatures here are usually over 100° and apart from being garaged at night they live outside. Then we get the sand storms early November.
So I think Texas weather can really show when a product works. First impressions it is easy to apply spray some product on a pad then apply in a cross hatch application a little like applying wax.
Let it haze to a white finish then buff off. It is like applying a wax it is slightly grabby and stays grabby. These are pictures after four months and some pictures from applying.
Impressions. Still slightly grabby, so I assume it's still there but beading Is still strong when ever it rains here.
Customer reaction is awesome, as a lot of customers just want some protection as they have a two year lease.
I noticed a slightly higher reading in gloss levels as well.
I'll keep an eye on this over the winter.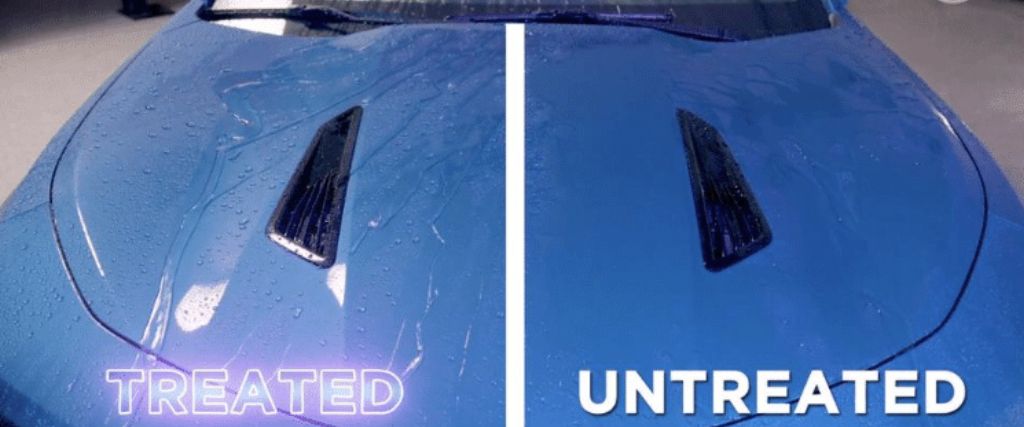 Also supposedly it can be applied over other sealants.
303® Graphene Nano Spray Coating
Product Description
The 303 Graphene Nano Spray Coating is a Graphene Oxide-based protection product, that will provide a high level of protection for up to 12 months!
When protecting your paint there are various waxes, sealants and coatings that all work to a certain extent, but the options can be overwhelming. Some are challenging to apply and protect for years, others are easy to apply and protect for weeks or months, but what if you are looking for something that has the best of both worlds?
This is where the 303 Graphene Nano Spray Coating comes into play. This protection product is extremely easy to apply, simply spray on and wipe away, and it protects for up to a year, not a few weeks or months. The secret is in the high-quality formula that features graphene.
This unique ingredient allows the layer of protection to feature a high-water contact angle, producing hydrophobic properties that keep the water from sticking to your paint. You might even laugh after you see how readily water droplets roll off the paint.
After application, the paint will have enhanced gloss and shine that will wow you! On top of looks and hydrophobic properties, this spray will lower the surface temperature, which will reduce the overall number of hard water spots, further adding to the protection properties of this item. Apply the 303 Graphene Nano Spray Coating to your paint, glass, wheels, and trim pieces! Directions:
Ensure paint is clean and dry before applying the product. If desired, correct your car's paint before applying, but this is not necessary for the product to fully bond to the paint. Spray onto a microfiber or foam applicator.
Apply to the surface in a crisscross pattern to ensure complete coverage. After application, allow product to cure and haze white, then buff off with a clean dry microfiber towel. After buffing, no cure time is needed before being introduced to water.
Cleaning After Application
96%