Considering everything that happens in your car—from, traveling to and from work, getting home from the gym after a good workout, nipping to the takeaway, eating and losing that McDonalds french fry down the side of the seat, transporting pets as well as a multitude of other activities, and often driving with the windows up due to the extreme weather (hot or cold), it's normal for smells to develop. However, the Fresso exceptional, up-market air fresheners makes it easy to banish those smells.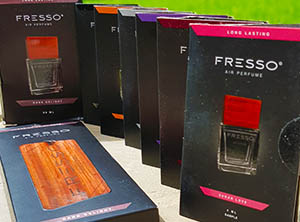 There is a great range of scents to choose from, we think you would have to be very  picky to not find one you would like, including: MAGNETIC STYLE, GENTLEMAN, SUGAR LOVE, SNOW PEARL, DARK DELIGHT, PARADISE SPARK and PURE PASSION.
FRESSO EXCEPTIONAL FRAGRANCES – Forget those flat and unnatural fragrances. The compositions Fresso offer consist of several layers and many notes, just like in classic perfumes.
You will quickly learn that each scent has its own beauty and uniqueness, and you will be surprised by their exceptional durability and efficiency. We believe Fresso will be your brand of choice, either it be for use on your own vehicle or a customers, either way you will enjoy them for a very long time! Fresso Say "Everyday you can surround yourself with a fragrance that omits positive energy".
We have found in our 12 years of detailing whether something smells pleasant or not can be a very subjective question, but there is one new brand of car air freshener that nearly everyone agrees on, Fresso smells great—and are worth searching out. The Dark Delight wooden hanging air freshener should be any auto enthusiasts favourite for decades.
Fresso offers you the most beautiful, perfumery compositions. Their elegance and glamor will meet the expectations of even the most demanding connoisseur.
We understand Fresso purfume air fresheners are made in Poland but can be purchased in the UK, while they do cost a little more than a magic tree, we feel its worth the extra money. We believe each full size scent will be dispatched with its own wooden board you simply load with scent and once people start complimenting the unique, sweet scent in your car you may want to keep an extra bundle for a birthday or christmas present idea. One thing to keep in mind is that if it's placed in direct sun, it may dissipate slightly faster than expected and the wooden board is quite large so hanging from a rear view mirror wouldn't be recommended by us.
We found that Fresso works best when placed under a car seat or out of direct sunlight. If you want one of the most unique and best scented car air perfumes you should seek out Fresso.
Product Review Score - 9 / 10