Zymol Detailing Products have their origins 200 years ago. Working with Landau Carriages in 1743 they set themselves a very challenging goal. The carriages had enamel paint that was hard to work with. Zymol uses plant oils and derivatives as the base of their products to give you a product that is natural and gentle. Additionally they are enhanced with real carnauba wax, coconut, cocoa butter and banana. The name Zymol is based on the words "EnZYMatic EmOLlient" that describes a creamy solution produced with/by enzymes.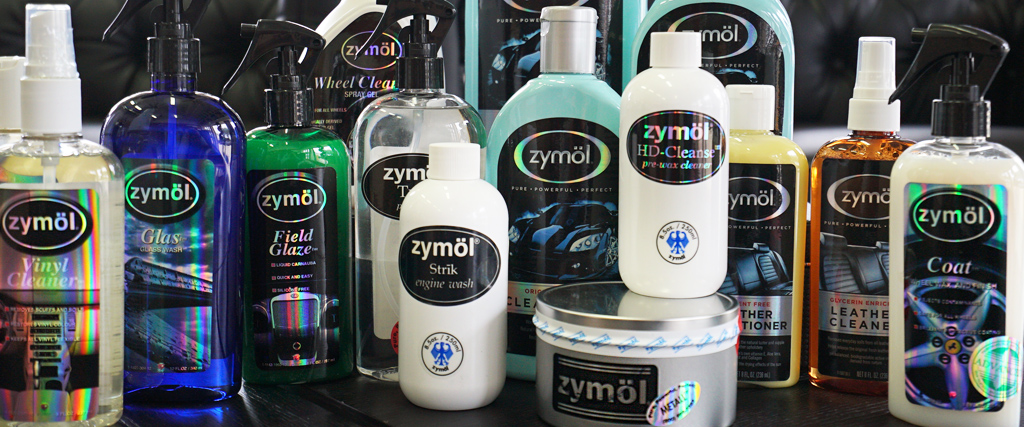 Zymol Detailing Products: Zymol uses nutritive oils and natural waxes to enhance your car's finish without harsh chemicals or abrasives. Their products are safe for all paint finishes, including new ceramics,, Si02, clear-coats, acrylics, PPF, urethanes and classic lacquers. The main protective ingredient is rare Brazilian Carnauba. Extracted from tropical rain forests, Zymol Detailing Products use up to ten times the amount than the industry standard. Their waxes are an enzyme mixture until you apply them to your car. With air as a catalyst, Zymol becomes a wax. This event bonds the Carnauba to your car. The Zymol product line offers dependable and effective solutions for automotive surface care. From routine maintenance washes, to high-grade Carnauba waxes, Zymol gives you the tools you need to clean, protect, and beautify your vehicle.
Zymol Detailing Products include everything that you will need to clean, care and enhance your car's paint. With the Auto Wash as a widely known product, Zymol provides you with so much more. Their leather and vinyl care products are incredible and due to its natural ingredients, it does not leave a sticky residue on your interior. I personally tested their products on faded trims, swirled paint and dull leather. It works extremely well!