Ever wondered what silicon dioxide nano-ceramic ingredients can do to fortify a carnauba wax? Wonder no more. Supernatural Hybrid Nano gives you the ease of use, depth of shine and optical filling of a wax, with the adhesion, chemical resistance and sheeting of a nano-ceramic sealant. A stunning show wax with a better finish out of the jar on 'normal' paint than nano-ceramic liquids can achieve, and also a great topper if your nano application has gone wrong. No silly pricing. Drawstring bag and full instructions for application supplied.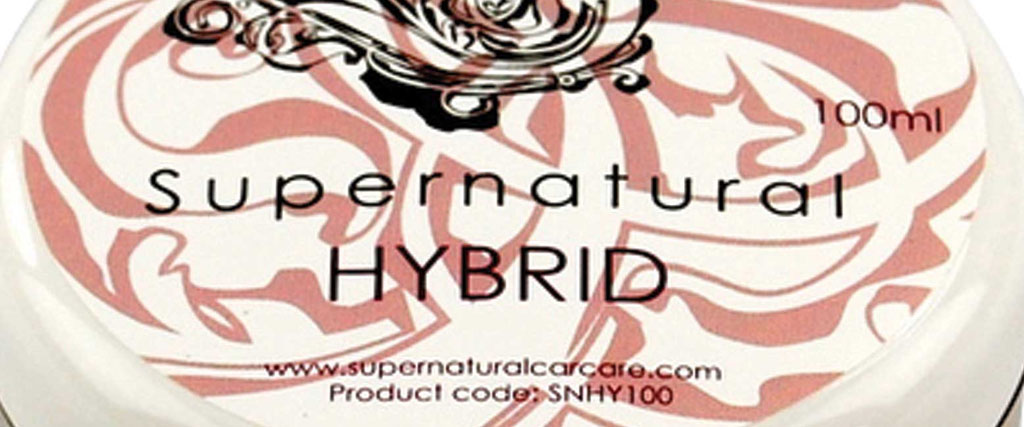 FAQ Why an SiO2 wax? We had the idea for an SiO2 wax about four years ago, but product development and other projects delayed the launch until now. We were also unsure whether there was a need for it, but a leading detailer tried one of our prototypes and used it instead of his regular SiO2 coating for certain cars and wanted us to make it. The benefits are better filling, better depth of finish, amazing initial water behaviour due to wax oils and easier application (in comparison to SiO2 liquid sealants) – so on non-machined cars this wax version makes massive sense compared to a standard SiO2 liquid sealant. It can also save the day if an SiO2 sealant has been mis-applied and resulted in a poor finish – Hybrid Nano wax could go over the top, masking minor inconsistencies and relevelling the optics. It's a niche product, but an interesting 'best of both' between leading waxes and advanced nano tech sealants.
Does it replace Supernatural Infinity and other SiO2 sealants?
No, it doesn't. On machine polished paint, the advantages to finish are negated. It will be easier to apply, but many detailers apply SiO2 products without issue anyway. The main problem is that the carnauba element will break down and collect dirt faster than a pure sealant, so we wouldn't recommend it coats a car for 12-18 months like Supernatural Infinity. It really needs replacing at 5-7 months, compared to 4-6 months for standard Supernatural Hybrid. For a new car protection, our choice would be Supernatural Infinity. For a show, or for a swirlier car, we'd choose Hybrid Nano.
How long does it last?
We recommend it is replaced every 5-7 months but could last longer. This is because the carnauba within the mix will act as a sacrificial layer and collect contamination/break down quicker than the SiO2. For more longevity, use Supernatural Infinity (12-18 months longevity).
What should I use it for?
Shows. Improving the appearance of unmachined paint. Saving the day if an SiO2 liquid sealant has been misapplied. Essentially, it has the limitations of a wax in many respects, but the hyper performance of an SiO2 nano ceramic. The initial water sheeting and beading can be immense due to the nano particles and wax oils combining. Is it easy to apply? Yes and no. Yes, it's not difficult and far easier to get a consistent finish than an SiO2 sealant, especially on dark paint. But no, it's not as easy as our core range carnauba waxes, or Supernatural Hybrid. If you haven't used a standard carnauba wax, we'd suggest going for Supernatural Hybrid instead of Hybrid Nano. You also need to avoid hard water droplets on the fresh coating because it can suffer from water spotting like SiO2 sealants. If you have a dark car, or a car with old paint, consider more traditional waxes. These may be more suitable than this super-strength specialist product.
How do I maintain the coating?
Regular shampoo washing is fine, and a monthly mild-acid wash (say, using Dodo Juice Mellow Yellow) can help rejuvenate the finish by removing contaminants. pH-neutral fallout removers are fine, but avoid caustic (alkaline) TFRs and strong APCs.
How does it compare with other waxes/sealants?
We created a little pre-launch video (BELOW) for Waxstock that shows it doing battle with the DW best sealant and DW best wax 2015. These were applied, allowed to cure for a short but equal time, then attacked with aggressive chemicals/abrasives to check durability. A sheeting test was then carried out. Initially, sheeting was equally good. After the test, Hybrid Nano showed marginally faster water clearance. Supernatural Hybrid Nano car wax vs The Best of… The difference is not night and day and the DW Best Sealant impressed due to its superb filling/glazing and low price. However, we were pleased with the comparative performance of Hybrid Nano in practice, its better resistance to contaminants and chemicals and in technical terms it is obviously a completely different animal to the other two.
Any independent videos of it in action?
Try Below: Supernatural Hybrid Nano after a week wash time!!…
Why isn't it more expensive?
We make our own nano ceramic sealant, so we have the ingredients to hand. The nano-ceramic component is vastly more expensive than the wax ingredients so the price does rise, and this product needed more packaging necessitated by a more complicated application and a 13 language booklet. But we kept the price as reasonable as possible. This wax will compete with the most expensive, or highest performing, waxes in the world at any price.
Does it smell nice?
No, it smells nasty due to nano-ceramic ingredients. Do not inhale the vapour. Supernatural products have no fragrance anyway and the solvent does not smell nice in Hybrid Nano. Choose Rainforest Rub or Rubbishboy's Juiced if you want to sniff something When is it available? It is available now, from all Dodo Juice resellers who have taken stock. Dealer launch was a couple of weeks ago so all UK/European outlets should now have it in stock.