TENZI is a Polish manufacturer of professional car care chemicals operating on the market for over 20 years. From the beginning, they have been guided by the motto "Advantage through quality", which is confirmed by the certificates thye have obtained. They cooperate with contractors from almost fifty countries around the world. They employ over 70 qualified employees in modern laboratory, training centre, offices and in production and storage facilities. Everything on the area of ​​over 5,000 square meters.
The brand has quite the line-up from a quick glance of their website with car care only 1 of several industries they provide cleaning products for. It is good to see that these are all in house developed products meeting strict industry standards & not white label products which are becoming increasingly more common in the UK market.
For any further information on the Tenzi brand & it's full range, follow the links below:-
https://www.theclayclothcompany.co.uk/ourshop/cat_1460328-TENZI.html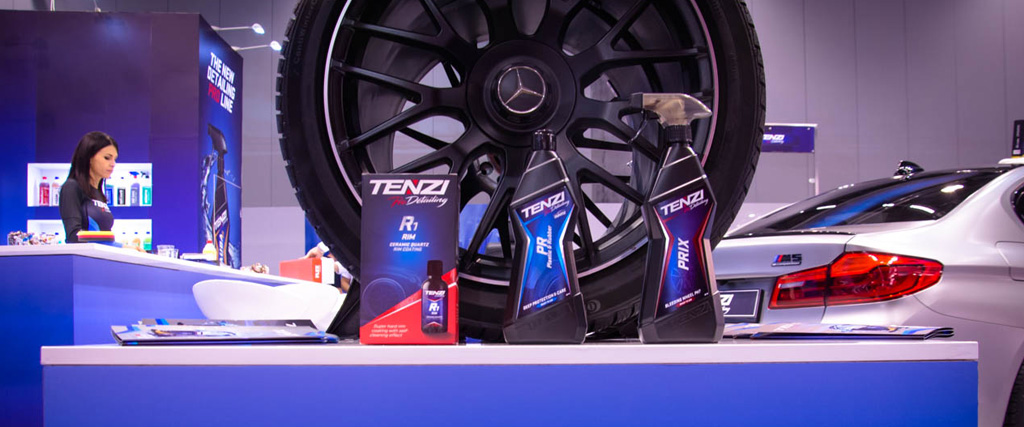 Tenzi's general use wheel cleaner called Clean Rim. With a quoted pH value of 14 in RTU (ready to use) form, this product is an alkaline based cleaner & a very strong one at that. I don't want to spend too long speaking about each products individual bottle & branding as it's consistent across the range. Clean Rim comes in a 600ml black HDPE Tenzi branded bottle.
You will find a clear plastic strip running down one side of the bottle. This allows you to easily see how much product is left in the bottle, a really handy addition to the packaging & something that's incorporated into all Tenzi bottles.
Additionally Clean Rim comes with a foaming spray head which again is a neat little feature & a useful addition for some of their spray products.
The Clean Rim solution was clear in colour & surprisingly, had a relatively nice scent. Typically I've found these type of wheel cleaners to smell pretty nasty in the past so thumbs up to Tenzi. The official description of Clean Rim from Tenzi is as follows:-
"Product designed for daily cleaning wheel rims and trims of all kinds. Effectively removes highway dirt and sediments from brakes. It does not contain hazardous chemical substances. Harmless to car paint and tyres. Recommended for everyday washing of the wheel rims, trims and tyres."
Instructions for Clean Rim are as follows:-
1. Apply the product on dirty parts of the wheel
2. Wait 30-60 seconds until the product starts working
3. Wash everything down with highly pressured water
The Method
The Alloys wheels where looking extremely grubby & in need of a good clean. With the product instructions in mind, I decided to test Clean Rim as not only a contact wheel cleaner but also as a contactless cleaner as well.
Firstly the alloy & tyre were given a good pressure rinse down to remove the top layer of dirt/brake dust. Using the normal spray head (foam head was broken in transit) I liberally applied Clean Rim to both alloy & tyre.
The reaction on the tyre side wall was almost instant with the solution turning brown after only a few seconds, a clear indication it was loosening the dirt from the porous rubber. On the alloy itself I didn't see any evidence of this on the brake dust/dirt remaining post pressure rinse.
As per instructions this was allowed to dwell roughly 1-2 minutes before being pressure rinsed down. On rinsing there was a noticeable difference on the alloy itself & the brightening of it.
The water running from away the alloy was filthy, a good indicator that it was working well. As a visual aid for this review, I swiped a few areas on the face & between the spokes to gauge how much dirt remained. The pad confirmed very little & left me mighty impressed.
I've also used the clean rim on another occasion with a snow foam applied over the alloy. Following the contactless clean, I reapplied clean rim to the tyre & alloy then agitated with an assortment of brushes to see just how effective this product can be when used in the usual fashion.
It foamed up well & cut through what little grime remained on the alloy with ease. I must say the real surprise was how effective clean rim is on the tyre. It cut through the grime on the sidewall with ease & the resulting brown foam on agitation is pleasing to see. I also tried this on another occasion & got a before & after to show how well it cleans rubbers. Again it foams up when agitated. This was rinsed down & then the rubber was allowed to dry to show the excellent results.
Price The 600ml bottle of Clean Rim can be purchased for only £5.79 which, compared to the market average for RTU wheel cleaners is relatively inexpensive.
You don't need to use a lot per wheel either due to the effectiveness of it. 3-4 mists on the tyre & 7-8 on the alloy is more than enough. I would guess a 600ml bottle should get you around 12 full sets of alloys & tyres which equates to 48p per car which for a RTU product is pretty good. If you wish to purchase Clean Rim, follow either of the above links :- 
Would I use it again?
Yes it's a fantastic cleaner for both alloys & tyres. My only gripe is the RTU formulation which I tend to find is substantially less economical than a concentrate cleaner.
With alloys needing cleaned every wash, you do typically go through a lot of wheel cleaner so a RTU product simply cannot compete on value compared to concentrate.
That said Clean Rim is so potent I wouldn't be shocked if you can dilute it down maybe 1:1 – 1:4 & still get really good performance.
Conclusion
A high alkaline wheel cleaner that is extremely effective on both tyres & alloys, whether agitated or not.. It foams up well, offers good lubricity & cleaning power is top notch. If you like the simplicity of RTU products, this is definitely one I would recommend you purchase. It has no faults beyond the RTU formulation & even then, just over £5 for 600ml is still good value.