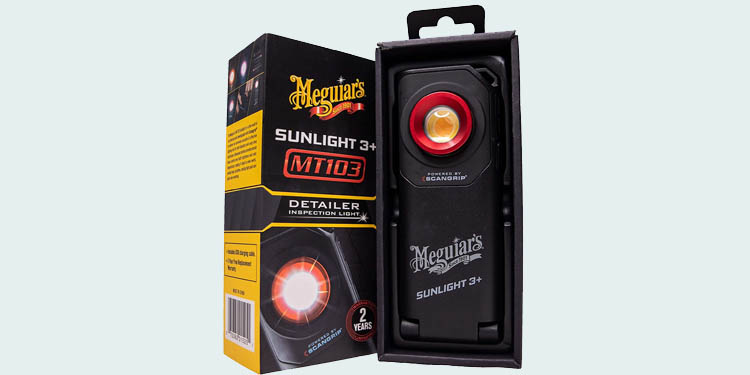 Key features of the Meguiars Sunlight 3+ Detailer Inspection Light MT103

The Meguiars MT103 Sunlight 3+ is a specialist LED inspection light manufactured in partnership with Scangrip, a leading name in LED work lights. This light will help you identify high spots in coatings, swirl marks and other defects, colour match and much more whilst inspecting or carrying out paint correction or protection.
The Meguiars Sunlight features a durable and rugged aluminium alloy casing built to last. It features separate stepless dimmer switches for both light output and colour temperature. Additionally a convenient memory function allows for instant on / off without searching for settings.
The rechargeable battery featured in the MT103 will give you an operating time of up to 25 hours (depending on the light output used) and takes 4 hours to charge fully using the included USB charger. Light comes from an ultra high CRI + COB LED capable of outputting 50 – 500 lumens and 2500k to 6500k colour temperatures.
Get Featured On Waxed Perfection
Promote your brand & products. For shoutouts and business inquiries, direct message or email us info@waxedperfection.co.uk
A spot on WaxedPerfection's website is a powerful way to boost traffic
Author & Owner of Waxed Perfection